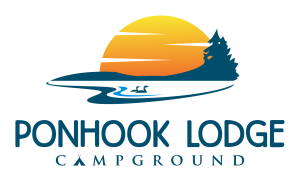 After serving campers for over 60 years, we are proud to continue to give our customers the very finest in RV accommodations.
We encourage you and your family to share our wooded lakefront location, take a refreshing swim in our spring-fed lake, listen to the call of the loons, watch the beautiful sunsets, and converse by a friendly campfire.
Modern amenities are available to ensure your stay is a comfortable one.
General store
Take-out menu
Recreation hall and games room
Organized events and activities
Playground with basketball courts
Laundromat
Clean public washrooms and showers
Free Wi-Fi

Seasonal Lots
We offer a beautiful and friendly space for campers to call their summer home. More than 90% of the families that stay here do so season after season. If you have an interest in becoming part of our community, we encourage you meet the staff at Ponhook and take a tour of the campground.

Transient Lots
Each year we have a very limited number of sites available for short-term stays. If you are interested in making a short-term reservation, please contact us soon to inquire about availabilities. Due to the limited number of sites available, and to allow more people opportunities to camp, we only allow stays up to a week in length. Thank you for your understanding.

Day Use
Whether you are visiting our seasonal campers, or just coming in for a swim or a meal, we hope you enjoy your day. We do ask that you please use our visitor parking area and follow our rules and regulations as outlined in our information section.